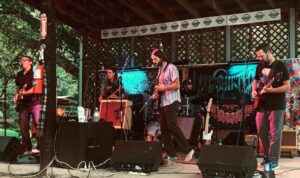 Doors 3PM/Show 3:30 PM
Southern rock meets jam band meets Americana with The Late Shifters, a passion-driven, band of friends, playing back holler rock-n-roll from Asheville, North Carolina.
The Late Shifters have found a way to express their love for the Appalachian region and its rich environment and culture through amplified and electric sound. They are motivated and influenced by bands such as the Drive by Truckers, Neil Young and Crazy Horse, Tom Petty and the Heartbreakers and the Grateful Dead, as well as songwriters like Jason Isbell and John Prine. These guys can put a stylistic spin on a classic rock cover and also entertain with one of their many, crowd-pleasing originals.
Recently, the band has been focusing their energy into the development and production of their original songs and into fine-tuning their unique, yet familiar sound. They have drawn enthusiastic crowds and won over new listeners with their energy and smiles from the stage. With studio recordings in the works, these five, hardworking, hard-playing family men have brought together their individual talents from various musical backgrounds and shared phases of life. The Late Shifters have been playing around the corner and around the campfire for years, and chances are, if you've spent time in Western North Carolina, you probably know at least one of them.
$5 cover